Tottenham host Antwerp in the final leg of group J Europa League with the task of forcing a win to take the top spot.
| | | |
| --- | --- | --- |
| | vs | |
8:00pm, Thu 10 Dec 2020 – Tottenham Hotspur Stadium
A lucky draw against LASK in the previous leg saw Tottenham qualify for the Europa League group stage, although things are not yet considered done with the English side in this group.
With 10 points in hand, Tottenham are second only to Group J and must have three more points to take the top spot. Their opponents in the last round were Antwerp, who were top of the group and also the target that the English team had to overcome.
Tottenham returned to the Europa League after suffering manager Jose Mourinho's wrath for having LASK snatch victory in the final minute of play, in a match on 4 December. The particularly outspoken scolded the students in front of the media. He said that many Spurs players played with superficial, subjective mentality that led to Joe Hart's net being pierced three times by opponents, breaking the streak of more than 400 minutes of clean sheets in all competitions.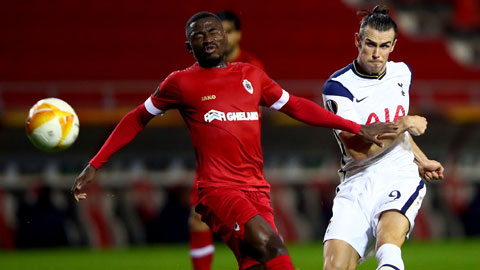 To be fair, however, even if Tottenham had won LASK that day, they would still have to win the match against Antwerp today to take the top spot in Group J! Looking at his record of winning four of five games and conceding just three goals in the Europa League this season, it is clear that Antwerp cannot be disregarded.
In the previous clash, Antwerp made a surprise defeat to Tottenham with a minimum score. The Belgian side's impressive form gives them a huge chance to finish group J with first place in the group, on the condition that they do not lose in this last round.
Tottenham have never considered the Europa League group stage as a place where they need to put a lot of effort into it, but this match may be the exception. Spurs are playing at home and they also need to be top of the table to avoid difficult teams, so it is more likely that important faces will be arranged by Mourinho in this match to secure a win.
Predicted line-up
Tottenham: Hart; Doherty, Sanchez, Tanganga, Davies; Lo Celso, Winks; Bale, Alli, Lucas; Kane
Antwerp: Butez; Seck, Gelin, De Laet; Miyoshi, Gerkens, Haroun, Hongla, Juklerod; Rafaelov, Benavente