Ronaldo and his team-mates will host rivals Torino in the Derby della Mole with plenty of advangtages.
vs
FT
5:00pm, Sat 5 Dec 2020 – Juventus Stadium
Alvaro Morata has impressed since returning to the Juventus shirt. Tonight, the Old Lady will have to play without Morata for the first time this season, in the della Mole derby. But Juve are not too worried because the team is still there Dybala duo – Ronaldo.
Morata must have regretted the refereeing behaviour he performed after the final whistle in last week's 1-1 draw with Benevento. Morata was suspended for two games, unable to play against Torino tonight.
It's not a regular football match, because the della Mole derby has 113 years of history. Also on the personal side, Morata is also very close to Torino goalkeeper Simone Zaza. The friendship between the two strikers is of different nationality but shares a lot of interests that have existed since the 2015/16 season when they were together at Juve. But Morata will not be able to see his best friend on the pitch again, after more than four years of playing apart.
In every team that Cristiano Ronaldo serves, he is always the focus of analysis from observers every time he appears or is absent. But in this case, the absence of Morata is also a huge professional problem for Juve. This season, the Spaniard has scored nine goals (not to mention six rejected by the VAR!), making four assists in 12 official games. An incredible number for someone who has been unsuccessful with Chelsea and Atletico.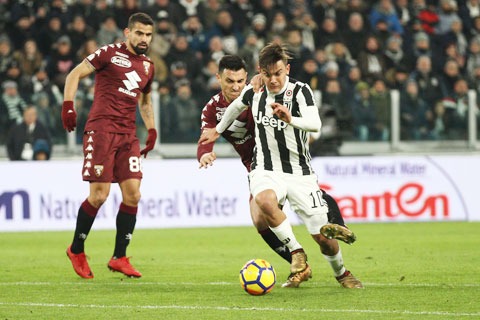 Morata is also particularly adapted to the Ronaldo man. Juve played with a sharp touch when they had two former Real strikers on the pitch. Morata is absent tonight, Paulo Dybala will replace him in the support position for CR7. Of course, theoretically, this is not a bad choice because La Joya and CR7 have also coordinated very well in the previous two seasons. The only problem is that Dybala's form and mentality since the start of the season has been very unstable due to various issues.
But manager Andrea Pirlo doesn't need to worry too much, simply because Torino are nothing special. This team has just experienced a sickness, but some small positive results have not helped coach Marco Giampaolo get out of the danger zone. With 22 goals in nine rounds, Torino have been the worst defensive team in Serie A this season. How can Italy goalkeeper Salvatore Sirigu keep a clean sheet against Ronaldo who is desperate to win individual records? The meeting in December also did not favour Turin. The last time Toirno won the della Mole derby in December was 44 years ago. In the nine December derby matches played after 1976, Juve were overwhelmed with seven wins, two draws, including four of their last five games, with the Bianconeri winning by at least two goals.
The absence of Morata will be an opportunity for Pirlo to find other options to lead the Juve ship to victory. A bold win awaits the Serie A champions.
Predicted line-up